The Double Eagle in Flight at Oshkosh on The Ultra Light Grounds. Mike Kimbrel Pilot.
<![if !supportEmptyParas]> <![endif]>
<![if !vml]>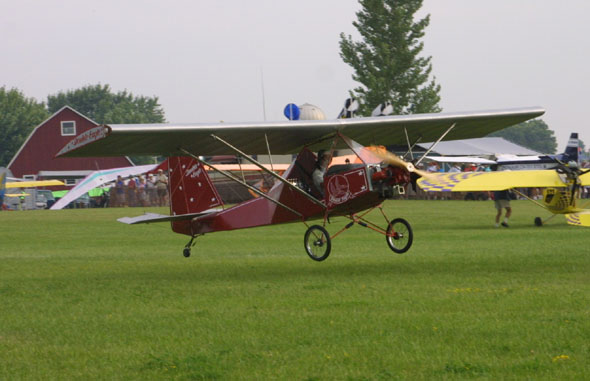 <![endif]>
Photo Credit Leonard Milholland the designer of the Double Eagle™
<![if !supportEmptyParas]> <![endif]>
Double Eagle™ two seat ultralight aircraft.
Leonard Milholland was at Airventure 2003 with his Double Eagle. The Double Eagle is a two seat side by side seating version of the popular Legal Eagle Leonard introduced at Sun N Fun several years ago.
Weight 385 lbs
Wing Span 28' 3"
Wing Cord 55"
Wing Area 127 sq.ft.
Fuselage 18'
Height 6' 8"
Gross weight 900 lbs.
Useful Load 515 lbs.
According to Leonard a "large friend" approached him to build a plane for him, the result was the Double Eagle. The Double Eagle has a 20 foot larger wing, which has been stressed to 4 g's., has larger diameter struts and spars and uses a 4 cylinder, 1835 cc, 60 hp Volkswagen engine.
The craft is 40 inches wide comes with dual controls, has an empty weight of 385 lbs a gross of 900 lbs giving it a useful load of 515 lbs.
<![if !supportEmptyParas]> <![endif]>
<![if !supportEmptyParas]> <![endif]>